Straightening your teeth with braces doesn't have to be a hassle, thanks to the many colors to choose from. As your smile improves, colored braces also display off your fun or trendy side. The only issue you're probably faced with is: "what color braces should I get?"
The good news is that you're not limited to a single color of braces for the duration of your treatment and that you can try out various combinations.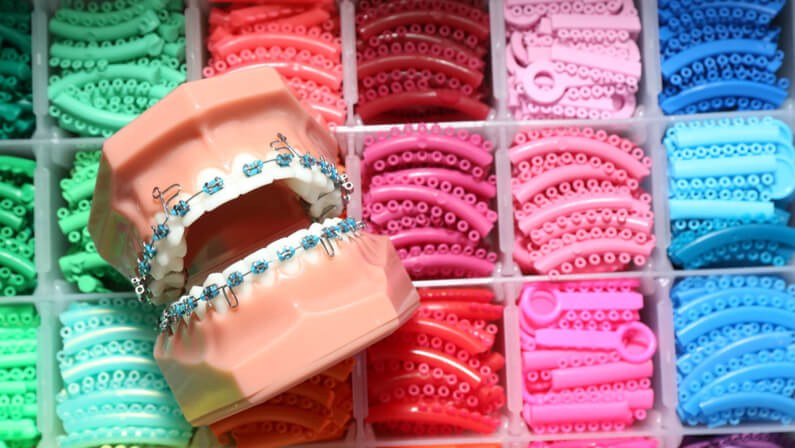 What are the best colors for braces?
Purple, yellow, blue, green, red, orange, and pink is the most popular colors for braces bands. Your orthodontist can guide you in selecting the best braces colors.
Here are some ideas to consider while selecting colored braces:
Favorite color: Choose a color you adore! Alternatively, mix and match colors to create a rainbow!
Complement your attire: Start by looking at the colors in your wardrobe and then choose a pair of braces that best matches your look! To be safe, choose a neutral tint that matches your teeth closely, as it will go with any attire or event.
Get in the Holiday Spirit: (Christmas, St. Patrick's Day, July 4th, etc.) It's a real blast to get your braces coordinated with the forthcoming holidays. Also, the color of your braces can add a stylish touch to significant occasions such as weddings and graduations.
Your favorite sports team: Wear your braces in the colors of your favorite team!
Eye-catching colors: Green bands on braces would look great with brown eyes. Purple, red, green, and orange accentuate green eyes, whereas lilac, pink, and blue suit blue eyes.
You might wish to stay away from the following colors:
Green or brown may look like food stuck in your teeth.
Yellow intensifies yellow-toned teeth appearance.
White might make your teeth appear yellower. Not to mention, white elastics tend to stain more easily
Black can make your teeth appear rotting or as if you've got food stuck in between.
How colored braces work
Colored braces, like the ordinary ones, are made out of metal. Brackets and archwires are silver, and you can choose from a variety of colored ties for your braces. Some individuals may also be able to select colored bands for their braces.
Your colored bands will function in the same way as any other rubber brace band. They'll be attached to your brackets to secure the wire and ensure that your grin moves in the right direction at all times.
You'll see your orthodontist for adjustments regularly during your treatment. As part of these adjustments, your wires will be fastened and you will be able to change the color of your rubber bands.
Color combinations for brace bands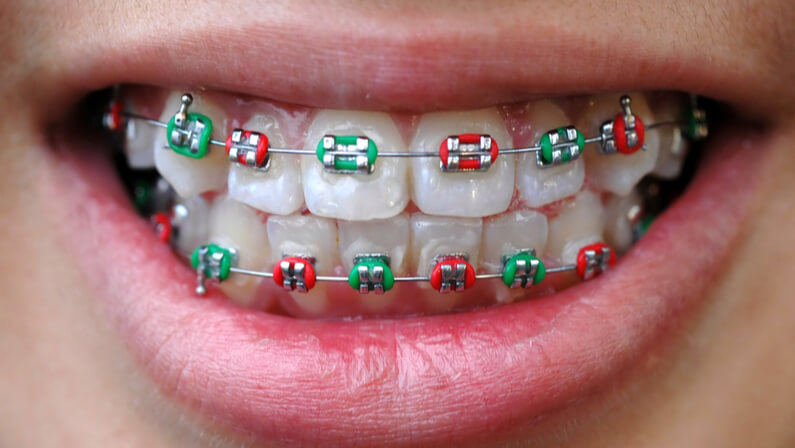 Everyone has their own style, which can be reflected in your braces. The elastic ties used on the braces come in various colors that you can change every time you pay your dentist a visit.
Here are some color combinations to experiment with each season with your braces:
Winter
It's no surprise that cool colors like deeper blues and purples are popular winter colors when the weather is at its coldest.
Holiday color combinations such as red, green, and black for Kwanzaa, white and blue for Hanukkah, and green and red for Christmas can all be reflected in your braces.
Non-holiday options for your winter style include dark blue and gray or dark blue and purple.
Fall
Turkeys and pumpkins are popular decorations, and college football is back on in the fall. Warm colors like darker yellows, burgundy, brown, and orange are typical fall colors.
For a colorful Halloween look, black and orange, brown and orange, dark yellow and burgundy are some fall color combinations to consider.
And you can never go wrong with your favorite team's colors!
Summer
Summer is the hottest season of the year. Thus, bright colors like neon hues, green, red, and brilliant blue are appropriate.
Summer is a time for celebration, with school out for a few months and many people traveling on vacation, and your braces should reflect that.
Try hot pink and green, silver and light blue, or even bright blue and red for a patriotic look.
Spring
Spring is the season when everything begins to bloom again, and the winter chill dissipates. During this season, pastel colors such as yellow, purple, and pink are fashionable.
Blue and green, pink and yellow, and silver and purple, to mention a few, are all options.
How to pick the right brace color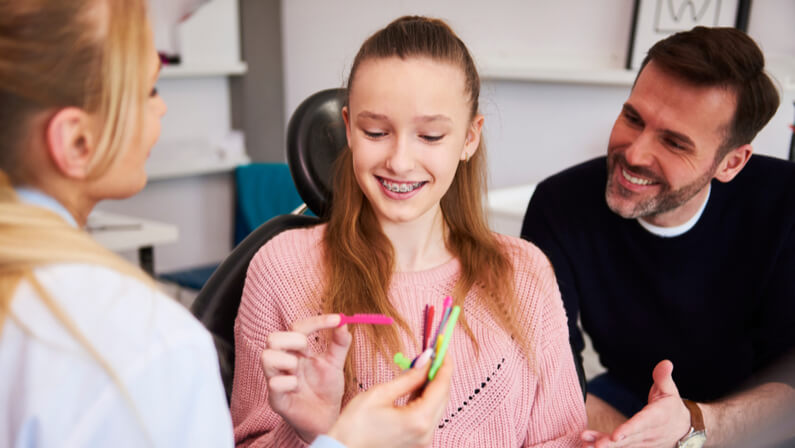 Check out our suggestions below to guide you in selecting your braces colors, which you should consider during your next visit to the orthodontist.
1. Refer to the color wheel
A color wheel is a collection of colors from which you can adorn your braces. Remember that whatever color you pick will appear lighter on your braces than it does on the color wheel.
2. Select colors for a specific objective
Regardless of the color scheme you use, choosing a theme might help you feel more confident about yourself.
3. Select colors that go well with your skin
If you have a darker complexion, use hues like violet, dark blue, gold, orange, turquoise, and so on for your braces.
Raspberry, caramel, green khaki, royal blue, and blue-green should be considered for lighter skin tones.
4. Match the colors to your outfit
When choosing a color for your braces, choose something that complements your current wardrobe. If you wear primary colors, for example, get braces in a primary color that complements them.
5. Stay away from clear bracelets
Consider matching your metal braces with clear rubber bands to make them appear as invisible as possible.
This is frequently more convenient than selecting a unique color palette. You can also make your braces appear less noticeable.
How often do the colors of your braces change?
You can change the color of your braces every 6-8 weeks when your orthodontist performs a braces adjustment treatment. For an upcoming event, holiday, or season, you may need to change the color scheme.
However, this does not imply that the brackets should be changed. Only the color of the rubber bands that the orthodontist places on your braces can be changed.
Note that getting braces may be uncomfortable for a short time since it requires some pressure and can pinch, however, the procedure is generally not painful.
Enjoy choosing the best color for your braces
Picking brace colors is supposed to be a creative and entertaining way to express oneself. The good thing is that regardless of what color you choose, you can always change your color scheme if you don't like it.
We want your braces experience to be one of the best whether you're a young child, adolescent, or an adult.
Brownstone Dental and its expert team are well-known for orthodontic needs in the Houston area. Give us a call to set up a free consultation if you're thinking about getting braces.
We are excited to welcome you into our family!