Straightening your teeth with braces doesn't have to be a hassle, thanks to the many colors to choose from. As your smile improves, colored braces also display your fun or trendy side. The only issue you're probably faced with is: "what color braces should I get?"
The good news is that you're not limited to a single color of braces for the duration of your treatment and that you can try out various combinations.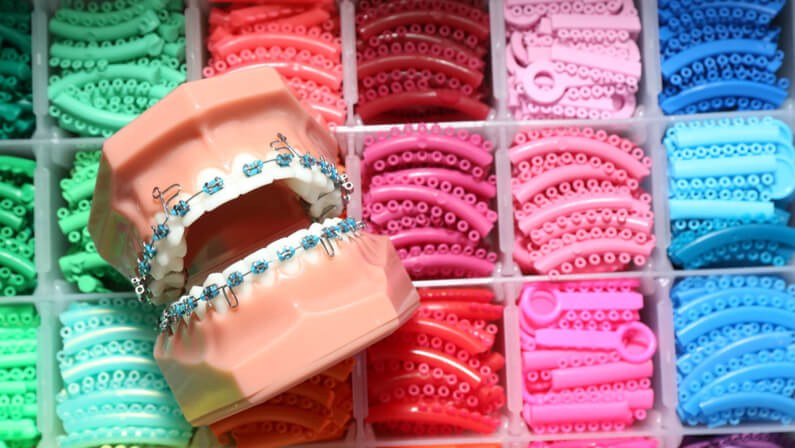 What are the best colors for braces?
Purple, yellow, blue, green, red, orange, and pink is the most popular colors for braces bands. Your orthodontist can guide you in selecting the best braces colors.
Here are some ideas to consider while selecting colored braces:
Favorite color: Choose a color you adore! Alternatively, mix and match colors to create a rainbow!
Complement your attire: Start by looking at the colors in your wardrobe and then choose a pair of braces that best matches your look! To be safe, choose a neutral tint that matches your teeth closely, as it will go with any attire or event.
Get in the Holiday spirit: (St. Patrick's Day, July 4th, etc.) It's a real blast to get your braces coordinated with the forthcoming holidays. Also, the color of your braces can add a stylish touch to significant occasions such as weddings and graduations.
Christmas braces color: Welcome and celebrate the merry season with some new braces colors. Have your braces' colors changed into merry hues like red and green, blue and silver, and red and gold to jive with the occasion.
Easter braces colors: Catch those Easter eggs and play around with blue, pink, and other pastel colors for your braces.
Halloween braces color: Get spooky with glow-in-the-dark braces. These are fun to flash if you go trick-or-treating in the neighborhood!
Your favorite sports team: Wear your braces in the colors of your favorite team!
Eye-catching colors: Green bands on braces would look great with brown eyes. Purple, red, green, and orange accentuate green eyes, whereas lilac, pink, and blue suit blue eyes.
Colors that complement your eyes: Choose bands that match your eyes. For example, brown eyes match blue and green. Green eyes complement red, orange, and purple.
You might wish to stay away from the following colors:
Green or brown may look like food stuck in your teeth.
Yellow intensifies the yellow-toned teeth.
White might make your teeth appear yellower. Not to mention, white elastics tend to stain more easily
Black can make your teeth appear rotting or as if you've got food stuck in between.
What about adult options?
How about adults? How do you choose a color for your braces, and what are the things you should consider?
Here are some pointers you can ponder:
Opt for muted colors. For adults already working in a professional environment with strict protocols, choosing the colors for braces may need to lean on the safer options. Dark green and black are muted color options and are not too loud to wear.
Don't be afraid to wear playful colors. In today's changing workplace settings, everyone can be who and what they are—including wearing the braces you want. You can show off your creative and funky vibe at work with gold, bright green, orange, and pink.
Choose a single color. Others may tend to wear a single color rather than having multiple colors to highlight professionalism.
Match your braces with your style. Your braces also challenge your style. If you find the right color for you, do not be afraid to sort your wardrobe with ensembles that will complement your braces. You can also match your outfits with your braces and see how well you can carry yourself.
Avoid unflattering tones. Do not wear colors that may highlight stained teeth. Colors like white, pale yellow, off-white, and even yellow-green may suggest discolored teeth and stuck food residue.
What Braces do Colors Make Teeth Look Whiter?
Choosing the best color for your braces is crucial to the overall appearance of your teeth.
Some colors may highlight the color of your teeth, which can be less complementing if they are discolored or stained.
Choose darker shades of braces such as black, purple, navy blue, red, and royal blue to make your teeth look whiter. Avoid getting colors that can be mistaken as food, such as green and brown.
How colored braces work
Colored braces, like ordinary ones, are made out of metal. Brackets and archwires are silver, and you can choose from a variety of colored ties for your braces. Some individuals may also be able to select colored bands for their braces.
Your colored bands will function in the same way as any other rubber brace band. They'll be attached to your brackets to secure the wire and ensure that your grin moves in the right direction at all times.
You'll see your orthodontist for adjustments regularly during your treatment. As part of these adjustments, your wires will be fastened and you will be able to change the color of your rubber bands.
What to consider when picking your braces color
Picking the color of your braces has other factors you need to check to ensure that what you pick is the best and the right one for you.
Braces colors might change
Your elastic bands gradually become less effective and you need to go to your orthodontist to have it removed and replaced. You can stick with a color you like but you can always have them replaced with another color if you want to try something new.
Dental habits
No matter what color you choose, remember that you always have to keep your teeth and mouth clean. Regular toothbrushing and flossing should be a priority. If not, your teeth will have tartar and plaque buildup which makes it hard for the color of your braces to highlight the whiteness of your teeth.
Diet
What you consume is also a factor in choosing the braces color for you. For example, getting white or clear-colored elastic bands usually get stained with dark beverages. If you love to drink soft drinks and coffee, you might not want to have braces in these colors as they will make your teeth stained.
Tooth shade
You can get any color you want if you have perfectly white teeth. Your teeth can stand out in any color, especially in the dark, royal blue, and red hues. However, if you have stained or discolored teeth, you may not want to choose yellow, orange, and white colors which highlight your teeth' color.
Color combinations for brace bands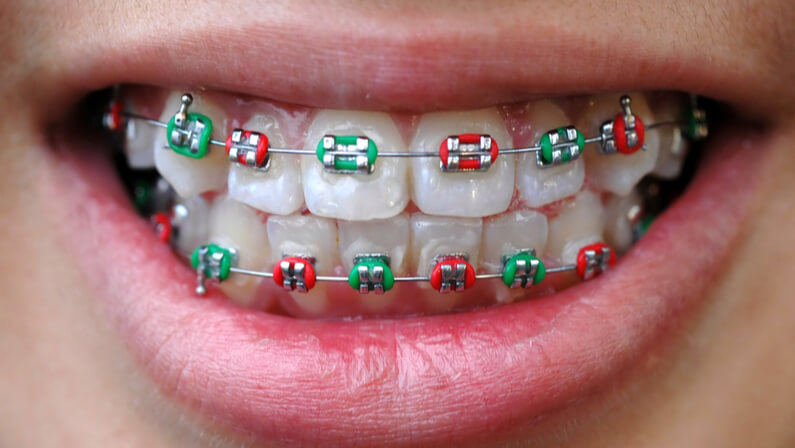 Everyone has their own style, which can be reflected in your braces. The elastic ties used on the braces come in various colors that you can change every time you pay your dentist a visit. Working as a dentist involves improving oral health and helping patients achieve brighter smiles.
Here are some color combinations to experiment with each season with your braces:
Winter
It's no surprise that cool colors like deeper blues and purples are popular winter colors when the weather is at its coldest.
Holiday color combinations such as red, green, and black for Kwanzaa, white and blue for Hanukkah, and green and red for Christmas can all be reflected in your braces.
Non-holiday options for your winter style include dark blue and gray or dark blue and purple.
Fall
Turkeys and pumpkins are popular decorations, and college football is back on in the fall. Warm colors like darker yellows, burgundy, brown, and orange are typical fall colors.
For a colorful Halloween look, black and orange, brown and orange, dark yellow and burgundy are some fall color combinations to consider.
And you can never go wrong with your favorite team's colors!
Summer
Summer is the hottest season of the year. Thus, bright colors like neon hues, green, red, and brilliant blue are appropriate.
Summer is a time for celebration, with school out for a few months and many people traveling on vacation, and your braces should reflect that.
Try hot pink and green, silver and light blue, or even bright blue and red for a patriotic look.
Spring
Spring is the season when everything begins to bloom again, and the winter chill dissipates. During this season, pastel colors such as yellow, purple, and pink are fashionable.
Blue and green, pink and yellow, and silver and purple, to mention a few, are all options.
How to pick the right brace color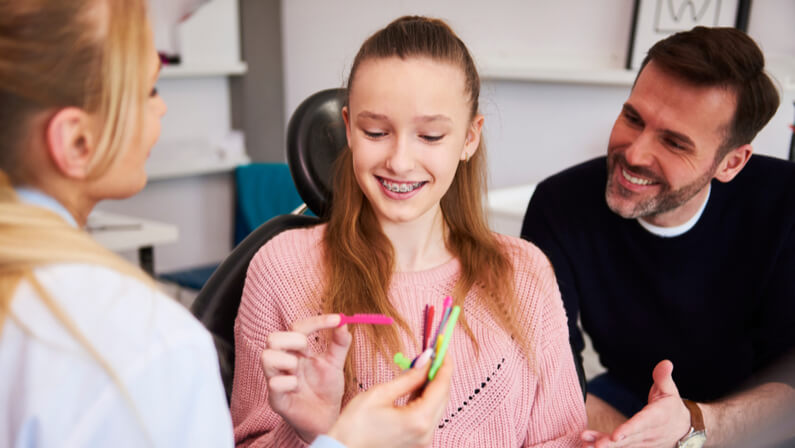 Check out our suggestions below to guide you in selecting your braces colors, which you should consider during your next visit to the orthodontist.
1. Refer to the color wheel
A color wheel is a collection of colors from which you can adorn your braces. Remember that whatever color you pick will appear lighter on your braces than it does on the color wheel.
2. Select colors for a specific objective
Regardless of the color scheme you use, choosing a theme might help you feel more confident about yourself.
3. Select colors that go well with your skin
If you have a darker complexion, use hues like violet, dark blue, gold, orange, turquoise, and so on for your braces.
Raspberry, caramel, green khaki, royal blue, and blue-green should be considered for lighter skin tones.
4. Match the colors to your outfit
When choosing a color for your braces, choose something that complements your current wardrobe. If you wear primary colors, for example, get braces in a primary color that complements them.
5. Stay away from clear bracelets
Consider matching your metal braces with clear rubber bands to make them appear as invisible as possible.
This is frequently more convenient than selecting a unique color palette. You can also make your braces appear less noticeable.
How often do the colors of your braces change?
You can change the color of your braces every 6-8 weeks when your orthodontist performs a braces adjustment treatment. For an upcoming event, holiday, or season, you may need to change the color scheme.
However, this does not imply that the brackets should be changed. Only the color of the rubber bands that the orthodontist places on your braces can be changed.
Note that getting braces may be uncomfortable for a short time since it requires some pressure and can pinch, however, the procedure is generally not painful.
Colors to Avoid
Avoid making your teeth look stained and dirty with these colors.
Extreme black and brown: These hues can may your teeth appear stained and discolored.
Green and yellow: These colors can look like stuck bits and pieces of food.
White and clear: Rubber bands in this hue can be stained with beverages such as coffee and red wine, making your teeth looking yellowish.
How to care for your braces
Wearing braces and maintaining their cleanliness may seem complicated for some. But it is actually not a hard thing to do. Here are simple ways to care for your braces:
Brush regularly. Clean your teeth at least twice daily to remove plaque buildup and food residue stuck in between your teeth. Make sure to detach the rubber bands and other removable accessories before you begin your cleaning. Use a toothbrush with soft bristles
Floss and oral rinse. While your toothbrush can do the majority of the cleaning, regular flossing and mouthwash do the difficult job of reaching the crevices in between your teeth. Floss can remove food particles stuck in cracks of your tooth while an oral rinse can wipe off bacteria lingering in your mouth.
Regular checking in the mirror. After each wash, smile in the mirror and see if everything is in place. First, see to it that no food particles are stuck in between the wires. Second, ensure that elastic bands and other accessories are reattached and there are no wires sticking out.
Avoid hard food. When you have braces, you need to keep in mind that there is food that may affect your device. Avoid hard food like crusty bread, popcorn, meat from a bone, hard candy, and nuts.
Enjoy choosing the best color for your braces
Picking brace colors is supposed to be a creative and entertaining way to express oneself. The good thing is that regardless of what color you choose, you can always change your color scheme if you don't like it.
We want your braces experience to be one of the best whether you're a young child, adolescent, or adult.
Brownstone Dental and its expert team are well-known for orthodontic needs in the Houston area. Give us a call to set up a consultation if you're thinking about getting braces.
We are excited to welcome you into our family!