Ceramic braces are a popular alternative to metal braces. Although the function and length of treatment between the two types of braces are very similar, ceramic braces can be more costly because of their material and appearance.
In this article, we will help you decide if getting ceramic braces is the best option for you. We break down its pros and cons, cost, length of treatment, and how it fares when compared to other popular teeth alignment treatment plans.
What are ceramic braces?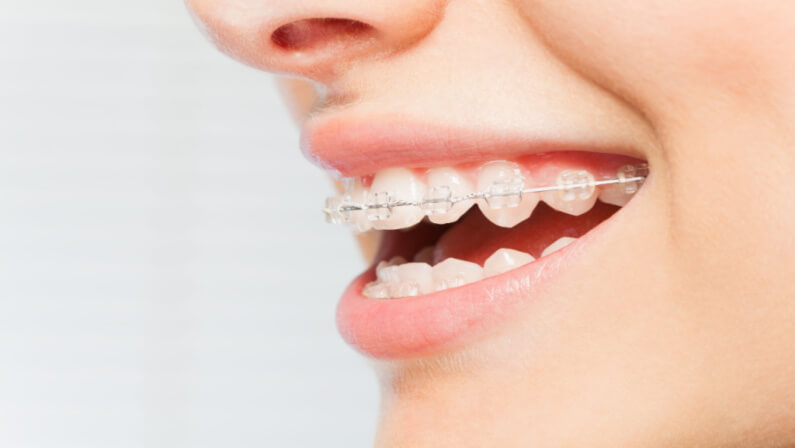 Ceramic braces are just like your conventional metal braces, except they are made with ceramic (sometimes porcelain or plastic) material and come in clear and tooth-like colors. Because they resemble the natural color of the teeth, they are less noticeable than their metal counterparts. This is great for people who are self-conscious about wearing braces and would like their braces to be more discreet.
Who's a good candidate for ceramic braces?
Ceramic braces are recommended for people who do not want to draw attention to their teeth. Since traditional metal braces are very noticeable, ceramic braces are a great alternative for those who want a more discreet look.
They function just like metal braces are just as effective, so ceramic braces are mostly chosen for their appearance.
Consult your orthodontist and ask about ceramic braces.
Advantages and disadvantages of ceramic braces
Since wearing braces takes time, paying attention to how you feel and look with them matters.
If you're not sure if you should choose ceramic braces over traditional metal braces, we've listed down their benefits and drawbacks so you can make a better decision.
Consult your dentist to see which type of braces suits your teeth the best.
Benefits of ceramic braces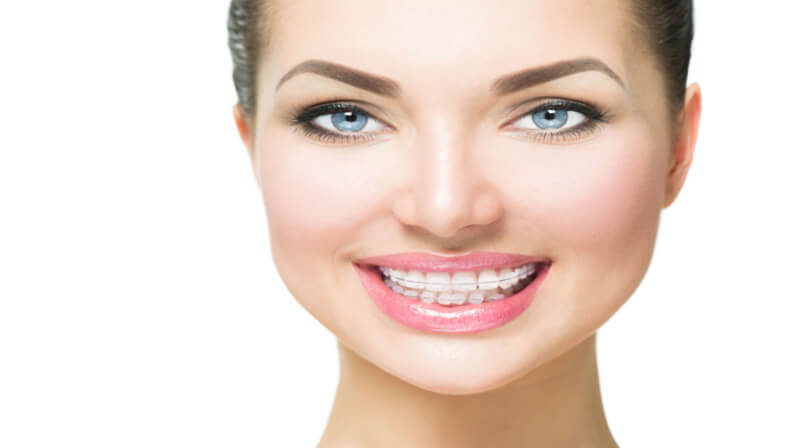 More and more people are preferring ceramic braces over other types of braces. Here are the pros and advantages of getting ceramic braces over traditional metal braces.
There are more discreet than metal braces
This is the most obvious benefit of wearing ceramic braces. It looks more natural than your traditional metal braces because they are made out of materials that are clear or tooth-colored. If you are self-conscious about wearing braces, the ceramic type is the way to go.
They move teeth faster than clear aligners (Invisalign).
Besides ceramic braces, there is also another type of teeth alignment method that is discreet and not as noticeable as traditional metal braces. These is called clear aligners, popularly known as Invisalign. As the name suggests, the Invisalign is a clear aligner tray that is virtually invisible. However, although Invisalign makes it appear as if you're not wearing anything on your teeth, correcting misalignment also takes a lot longer than ceramic braces.
They have less metal and don't interfere with imaging tests
Metal can sometimes interfere with signals in imaging tests such as X-rays, MRI, and CT scans, among others. This makes ceramic braces better because it contains less metal.
They can come in many colors
Archwires in metal braces only come in silver or gray. However, with ceramic braces, you can choose to have your archwires in lighter colors that match your teeth. You can also go creative with the elastic bands and choose different colors.
Drawbacks for ceramic braces
Although ceramic braces are, in most ways, more appealing in terms of aesthetics, they have their own drawbacks as well. Here are the cons or disadvantages of getting ceramic braces over traditional metal braces.
They cost more than metal braces
If you're thinking about sticking to a budget, you should be aware that ceramic braces cost more than traditional metal braces. This is because the materials used in ceramic braces are more high quality and are made to prioritize their natural appearance.
They may cause gum sensitivity
Brackets in ceramic braces are larger than the brackets in metal braces. Since the brackets occupy more space, it can be more difficult to clean. When your toothbrush is not able to clean your teeth properly, you may risk gum sensitivity.
They are more fragile than metal braces
Although more expensive, they can also be less durable than their metal counterparts. According to a study in 2016 where the bond strength of both metal and ceramic brackets was compared, metal is indeed sturdier than ceramic. This means it is more likely for ceramic braces to chip off if not careful.
They may correct teeth slower than metal braces
Since ceramic braces tend to be fragile, your orthodontist may make more necessary adjustments to fix them. This will eventually delay the process of alignment, taking more time than when the typical metal braces.
They can stain when not taken care of
While the brackets of your ceramic braces do not stain easily, the elastic ties that hold them together do. This is why you might see discoloration if your ceramic braces are not maintained properly.
Ceramic braces vs. metal braces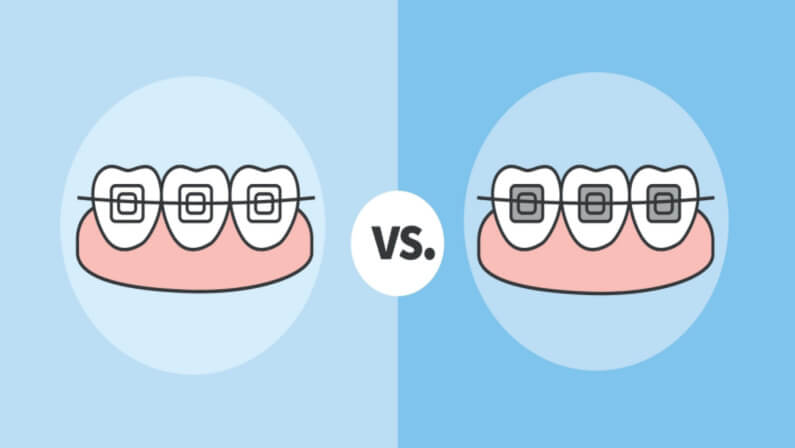 Ceramic braces function almost exactly the same as metal braces. They are also worn over similar durations and have the same results. They only differ in appearance, durability, and cost.
Ceramic braces vs. invisible aligners
Ceramic braces and invisible aligners (Invisalign) function similarly in that they correct misalignment of the teeth. They also are great alternatives to traditional metal braces because they are less noticeable in appearance.
However, instead of archwires and brackets, invisible aligners are made of plastic aligner trays that are worn over the teeth. They also do not need regular adjustments like your regular metal and ceramic braces, however, orthodontists might not recommend them for severe cases that need more intense treatment.
Procedure for ceramic braces
Getting ceramic braces is a tedious and customized process that requires careful planning and application.
Here's what you can expect when you get ceramic braces:
Consultation with an orthodontist
Before you get fitted for braces, an orthodontist will assess your teeth. During this process, they will identify your needs and develop a treatment plan that best suits you. They will also discuss your options with you.
Installation of braces
When you are cleared to get ceramic braces, your orthodontist will begin to install the device. This process does not take long and is usually finished within 90 to 120 minutes.
Length of treatment with ceramic braces
There is no fixed length of treatment with ceramic braces because each case differs from person to person. For mild cases and alignment that is easy to correct, treatment may last for only several months. However, for more severe cases, treatment may last up to three years or more.
Cost of ceramic braces
The cost of getting ceramic braces may vary depending on what your treatment plan is and how long you will be on ceramic braces.
Contact us at Brownstone Dental to know more about the cost of ceramic braces and we can discuss what your options are.
How to prevent ceramic braces from staining
Because of its material and its lighter color, ceramic braces can stain. However, this is completely preventable.
Here's how you can keep your ceramic braces from discoloration:
Brush and floss your teeth regularly after eating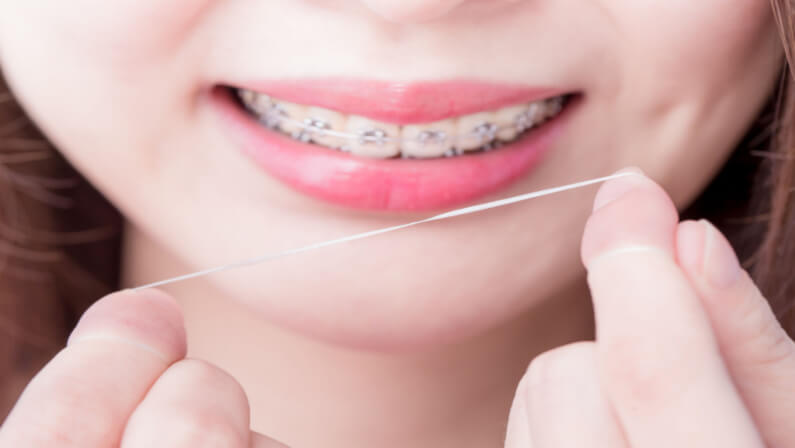 The number one culprit of discoloration in your braces is the lack of proper hygiene. To avoid staining, make sure food is not trapped in between your teeth and braces by brushing and flossing your teeth after meals.
Avoid foods and drinks that leave stains or discoloration.
Steer clear of food and drinks that can stain your teeth and ceramic braces as well, such as coffee, tea, turmeric, beets, red wine, tomatoes, and soy sauce, among others.
Don't smoke
Smoking can also stain your ceramic braces. So if you do not want yellowish teeth and ceramic braces, don't smoke.
Don't use whitening toothpaste.
It may be tempting to use whitening toothpaste to prevent your ceramic braces from discoloration, but remember that there are areas underneath your brackets that are out of reach. This means your teeth and ceramic braces may whiten, but once you take your braces off, you might see imprints or spots that are a different shade than the rest of your (whiter) teeth.
See your orthodontist regularly.
Finally, do not forget to see your orthodontist regularly. Besides regular checkups, your orthodontist will also need to replace your ligature ties with clean, non-stained ones.
Getting ceramic braces
Although ceramic braces can be more costly and more fragile than traditional metal braces, many people still prefer to get them because they look less noticeable.
For the self-conscious who do not want to draw attention to their teeth, ceramic braces will be a great alternative.
Before you decide whether ceramic braces are the best option for you, talk to an orthodontist. Our orthodontists here at Brownstone Dental offer expert dental advice so you can get the best treatment plan that fits your specific needs.